Welcome!

Welcome to the DanMachi Wiki, a wiki dedicated to the DanMachi, Sword Oratoria, and Familia Chronicle light novels by Oomori Fujino and the manga and anime produced from them. This is a wiki where everyone can help out by adding and editing articles! The wiki currently has had 84,206 edits over 847 Articles with 2,923 Images and has been expanding since July 24, 2014.
Featured Article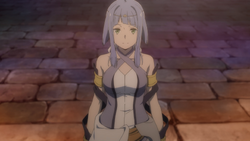 Artemis is a Goddess that is going to be the main heroine in the movie DanMachi Arrow of Orion. A friend of Hestia's, she asks Bell Cranel and the others for help in defeating an ancient monster known as Antares.
Latest Volumes and Chapters
Latest Volumes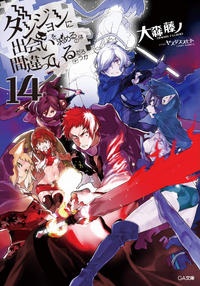 DanMachi
Light Novel Volume 14
December 15, 2018

"Monster Rex - Amphisbaena!"
The prophecy of despair doesn't stop.
A new irregular begins on the 27th Floor where the catastrophic party occurred. Not having anywhere to go, Lili and the others are forced to go on an adventure without Bell.
"The Deep Floors..."
On the other hand, the harshness that awaits Bell and Ryuu is known as the 37th Floor. Loneliness, isolation, and separation, the worst begins in the most atrocious stage.
And finally, the impending shadow of calamity. Toyed with by harshness she'd never experienced before, Ryuu, between life and death, sees scenes from the past.
"I don't...have justice anymore" (Learn more...)
Sword Oratoria
Light Novel Volume 11
January 15, 2019

"I wasn't able...to cut a monster"
Following her battle with Bell, a disappointed Ais was troubled. Her reason to fight, the broken vow, the monster's tears. Aware of everything, the girl goes to meet the boy once again.
"The operation will begin in ten days"
And the clock hands continue to move.
The approaching Knossos subjugation operation. The Gods coalesce after removing the barriers between themselves, the adventurers put their wills together as one, and the Xenos gather on that fateful day. What awaits them are the remnants of Evilus, the Creatures, and Enyo. The battle for the fate of Orario begins now! (Learn more...)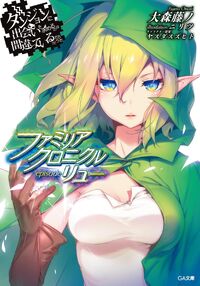 Familia Chronicle
Episode Ryuu
March 13, 2017

This is a chronicle of history that a God's children spin-
"The person who bought Anna Claes is associated with the casino"
As usual, trouble occurs at the Hostess of Fertility, the place where the skilled former adventurer Ryuu works.
Upon learning that a certain couple's daughter was kidnapped, Ryuu begins investigating in the name of justice.
What she reached was the labyrinth city's extraterritorial area, the casinos.
In the midst of the golden city where peoples' desires swirl, the Gale's roar breaks out!
"Raise your voices! This is a place where you laugh and eat food!"
Also included is the story of the pub's beginning! (Learn more...)
Poll
Whose movie outfit do you like the most?