The Hostess of Fertility (豊饒の女主人 Hōjō no Onna Shujin) is a well known pub in Orario.
Information
[
]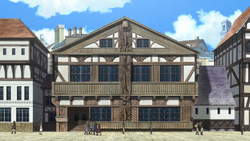 The owner, Mia Grand, opened the pub after she semi retired as an adventurer. The pub caters to citizens during the afternoon and adventurers during the night. Their menu and prices change between the two times.
The Hostess of Fertility sits on a brick lined street. It is a two story building made of stone that has the depth of a neat inn. As it is located along the Western Main Street, it is usually filled with a lot of customers.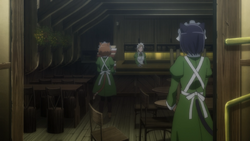 The front entrance has a set of double doors with wood carvings decorating the frame. Carvings can be seen in various places on the front of the pub. The Hostess of Fertility sign can be seen on the left side of the entrance, as well as on an overhanging sign with a crossed fork and knife.
The Hostess of Fertility has a separate wooden building that has a large inner garden. A separate building had been planned to be built there, but was canceled, leaving the garden vacant. However, due to the planned construction, a section of the garden was paved with stone.
All the staff of the Hostess of Fertility pub are female. It is an interracial business, accepting employees from all races and is full of people with shady pasts that Mia took in and takes care of. As the employees are used to fighting, any unwanted behavior can cause people to be thrown out of the pub and out onto the street, something passerby are used to seeing, and all employees with known levels are high levelled.
Menu
[
]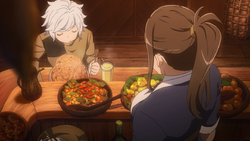 Most of the menu of the pub is unknown, but it is known that the menu ranges anywhere from noodles, roasted meats, soups, as well as various kinds of alcohol. The food at the Hostess of Fertility is mentioned to taste the best, and Mia's fruit liquor tastes good enough to make people frequent the pub.
Uniform
[
]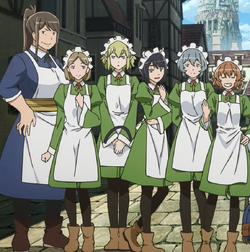 The Hostess of Fertility employee uniform consists of:
A green above the knee dress with long puffed sleeves and a white collar. Mia's is colored blue.
White Apron and headband
Small orange bow under the collar
Black leggings
Short brown, ankle boots
Members
[
]
[

]