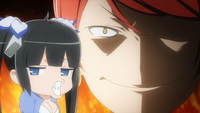 Hestia and Loki appear to have a rival goddess relationship that has lasted since the time they were in heaven. Loki tends to make fun of her small Familia, as well as being a 'runt.' In return, Hestia makes fun of Loki's flat chest, much to Loki's chagrin. Their relationship is rather unfriendly, purposely keeping Bell and Ais apart from each other. While their relationship nears hostility, they do not appear to fight outside of verbal arguments, and Hestia even admits to one of Loki's virtues, that being her love for her children.
Loki is Ais' goddess. The two appear to get along, despite Loki's constant (failed) attempts to grope her and do generally anything perverted. Though Ais does threaten Loki whenever she tries to do such things, it has been shown that Loki does indeed care about Ais and vice versa.
Despite Loki being her Goddess, Riveria treats Loki in a nonchalant manner outside of serious events due to Loki's rather childish demeanor, which is evident by her frequent teasing of Riveria, affectionately calling her "Mommy". Riveria finds this behavior to be annoying, but still retains high respect for Loki as her superior.
Community content is available under
CC-BY-SA
unless otherwise noted.